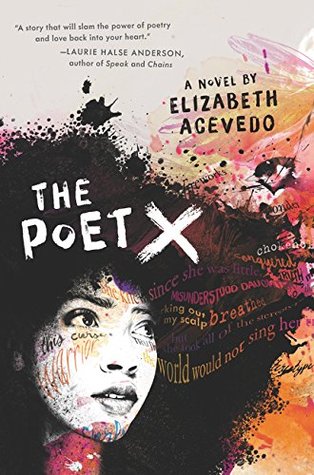 Photo Credit
YOU ALL, THIS BOOK IS AMAZING. OH. MY. GOSH.
Ok, before I dive into the review here's a look at the summary:
"Xiomara Batista feels unheard and unable to hide in her Harlem neighborhood. Ever since her body grew into curves, she has learned to let her fists and her fierceness do the talking.
But Xiomara has plenty she wants to say, and she pours all her frustration and passion onto the pages of a leather notebook, reciting the words to herself like prayers—especially after she catches feelings for a boy in her bio class named Aman, who her family can never know about. With Mami's determination to force her daughter to obey the laws of the church, Xiomara understands that her thoughts are best kept to herself.
So when she is invited to join her school's slam poetry club, she doesn't know how she could ever attend without her mami finding out, much less speak her words out loud. But still, she can't stop thinking about performing her poems.
Because in the face of a world that may not want to hear her, Xiomara refuses to be silent."
Trigger Warning: Fatphobia, parental verbal abuse, and harassment
You all, this book. This book. I'll start with Xiomara. Her character was both real and raw, and impossible not to root for. Her character arc was dynamic and it drew the reader in from the very first stanza on the very first page. Since The Poet X is in verse, the poems written by Xiomara really allow the reader to see everything through her eyes. It makes for a very engaging and personal read. In addition to Xiomara, all of the characters and the relationships between them were complex and had so much depth to them. The Poet X is built on relationships (friendships, sibling relationships, romantic relationships, and parent-child relationships), and the verses weave those relationships together in such a heartful and encapturing way.
I loved the exploration of religion in The Poet X. Again, like the entire book itself, it felt real and raw. The Poet X is truly a coming of age story, as readers watch Xiomara's exploration of herself, religion, love, and growing up in general. In addition, Xiomara is Dominican, so Poet X has ownvoices Dominican rep. Plus, there's slam poetry, and who doesn't like slam poetry.
This was the first YA book that I've read in verse and I definitely like the style, and how Elizabeth Acevedo used it as a strong narration tool. Plus, this is just her debut, and I can't wait to read the author's future works. The Poet X has definitely become one of my favorite reads of this year. If you're thinking about giving it a read, I highly highly recommend you do so.
As always,
Happy reading, happy writing, and happy blogging!