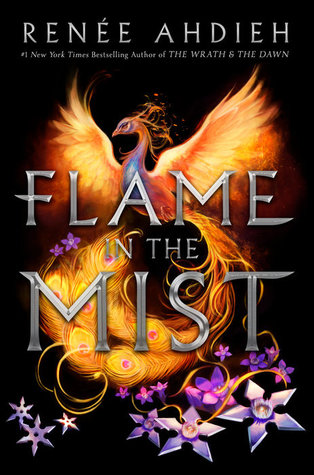 Photo Credit: Goodreads
It's been a while since I've read anything outside of YA contemporary (I read Flame in the Mist during summer vacation *sighs wistfully*), so I was super excited to read another genre. From the moment I found out that this was inspired by Mulan (it's not a direct Mulan retelling, which I originally heard!),  I was hooked and I knew I had to read Flame in the Mist. Here's a look at the synopsis:
"The only daughter of a prominent samurai, Mariko has always known she'd been raised for one purpose and one purpose only: to marry. Never mind her cunning, which rivals that of her twin brother, Kenshin, or her skills as an accomplished alchemist. Since Mariko was not born a boy, her fate was sealed the moment she drew her first breath.
So, at just seventeen years old, Mariko is sent to the imperial palace to meet her betrothed, a man she did not choose, for the very first time. But the journey is cut short when Mariko's convoy is viciously attacked by the Black Clan, a dangerous group of bandits who've been hired to kill Mariko before she reaches the palace.
The lone survivor, Mariko narrowly escapes to the woods, where she plots her revenge. Dressed as a peasant boy, she sets out to infiltrate the Black Clan and hunt down those responsible for the target on her back. Once she's within their ranks, though, Mariko finds for the first time she's appreciated for her intellect and abilities. She even finds herself falling in love—a love that will force her to question everything she's ever known about her family, her purpose, and her deepest desires."
First off, I really enjoyed the cast of characters. They're all complex, developed, and full of flaws and insecurities. They really made this book for me, especially Mariko. She's strong, intelligent, aware, and courageous. I rooted for her throughout the entire novel, and I'm excited to see how her journey continues in the sequel.
Though Flame in the Mist is marketed as a Japanese retelling of Mulan, I know I went in thinking it was a direct Mulan retelling based on what I'd heard. So just to clear up any potential misunderstandings, Flame in the Mist is inspired by Mulan. Mulan is set in China and Flame in the Mist is set in Japan. The comparison was a bit of a stretch, and I don't think I would've picked up that it was inspired by Mulan if I hadn't known that before I started reading it. I don't think would've taken away from me enjoying the book, I just don't want anyone to be disappointed. That segues into the setting. The Japanese setting was so lush and full of details. The setting added volumes to the story, and it drew me in. Seeing how Mariko interacted and learned about the setting through a new perspective was really interesting to read.
I love how gender is brought up as a main aspect in Flame in the Mist, and that Mariko questions it. However, I feel like the message of female empowerment could've been a bit stronger. Mariko seems to acknowledge and become increasingly aware of gender equality, and I'm hoping that in the sequel she takes more of an active stance. The intended message behind Flame in the Mist is a powerful one: YOU make your own choices, choose you own path, and control your destiny and don't let others try to do any of those for you. I'm always down to see women of color in YA sci-fi and/or fantasy taking control of their fate and forging their own path.
Flame in the Mist was overall a solid read for me, and I fully intend to read the sequel, Smoke in the Sun, when it's released.
4/5 stars
As always,
Happy reading, happy writing, and happy blogging!