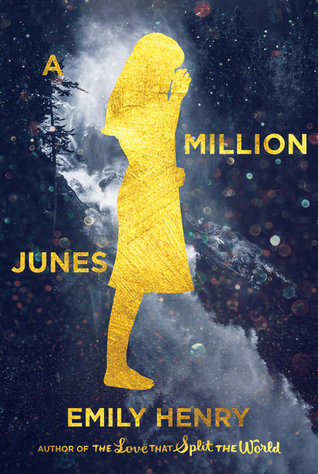 Photo Credit: Goodreads
You all, I'm so excited to share this review! It's probably going to be a tad bit longer than my reviews usually are, but I have so much to say about this book. Here's a look at the synopsis, before I jump into my ramble/rave/review.
Trigger Warning: Mention of bodily harm/potential suicide attempt
"For as long as Jack "June" O'Donnell has been alive, her parents have had only one rule: stay away from the Angert family. But when June collides—quite literally—with Saul Angert, sparks fly, and everything June has known is thrown into chaos.
Who exactly is this gruff, sarcastic, but seemingly harmless boy who has returned to their hometown of Five Fingers, Michigan, after three mysterious years away? And why has June—an O'Donnell to her core—never questioned her late father's deep hatred of the Angert family? After all, the O'Donnells and the Angerts may have mythic legacies, but for all the tall tales they weave, both founding families are tight-lipped about what caused the century-old rift between them.
As Saul and June's connection grows deeper, they find that the magic, ghosts, and coywolves of Five Fingers seem to be conspiring to reveal the truth about the harrowing curse that has plagued their bloodlines for generations. Now June must question everything she knows about her family and the father she adored, and she must decide whether it's finally time for her—and all the O'Donnells before her—to let go."
First off, A Million Junes is beautifully weird. It's more than your average YA contemporary romance, and that's because of its fabulism. Now fabulism and I have a finicky relationship, and I either love it or really don't love it. I've found that sometimes fabulism will be added to a book to try to make it more interesting, but then it won't fit in with the story, specifically the setting. So with all of that being said, I was a bit weary going into A Million Junes; however, my expectations were blown away, and that was due to the incredible magical realism that's present in the book. Fabulism might not be everyone's cup of tea, it isn't always mine, but if you keep an open mind going into this book, then I think you'll definitely end up loving the weirdness.
There are three aspects that made A Million Junes a stunning read: the characters, the writing, and the plot/story. Jack "June" O'Donnel is such an awesome protagonist, and I love her character arc. She's strong, determined, and has a keen sense of who she is even when the outside world tries to break that. Saul Angert, the love interest, was awesome primarily because of how well he complimented June. His character was developed, but not to the extent that June's was. While reading, I didn't notice that at all, but it did come to mind when I was reflecting. Hannah, June's best friend, is another wonderful character who's smart, knows what she wants, and is just a positive light. Her and June's friendship is one of my favorites because it's such a give and take, and they're both so supportive of one another.
Furthermore, the character's relationships with each another are complex and enjoyable to read. There's a strong and multi-dimensional father-daughter relationship between June and Jack III, which I wanted to point out because I love awesome father-daughter relationships. The messy family rivalry and the O'Donnells' and Angerts' individual family histories were super interesting to read about. It was cool to learn more about them alongside June, who was also digging deeper into the two family's histories as the story progressed. I also realized after finishing reading A Million Junes, that it's a Romeo and Juliet retelling. Usually I stray away from those because I don't tend to enjoy them, but for some reason I didn't pick up on the trope while reading. In short, the characters and their relationships with another are amazing.
The second aspect was the writing. This was the first book that I've read by Emily Henry, so I didn't know much of what to expect going into A Million Junes. The writing is beautiful. It combines metaphors and sarcasm, poetry and casualness and everyday thoughts. It's such a mixture of tones and feels, and the prose sweeps you up and carries you through the story. The last few pages brought me to tears, and that was primarily because of the ending's prose.
The third aspect was the plot/story. The plot itself contains a forbidden romance, which I talked about earlier. Emily Henry strikes the perfect balance between the somewhat lighthearted romance and the heavy conflict that June faces. The setting, Forbidden Fingers, is so well-crafted. There are so many details that allowed the element of fabulism to truly come to life. Without the setting, I don't think the story would've been as great as it was. In terms of pacing, the story starts off very fast and you have to find your way a bit before you catch up with what's going on. The ending slows for a bit, but the last twenty pages really hit you with the emotions so it's not that noticeable because you're too busy feeling feels. There were a lot of big topics – grief, death, love, the future– that were perfectly woven into the storyline, and that really helped you connect to June and her story.
In conclusion, A Million Junes is an amazing read, and I'm so glad that I stumbled upon this book. It's one of my favorite reads of the year because I truly felt that I was IN the story. I docked off half a star because there's little/no diversity present in the story. After finishing A Million Junes, I got the incredible urge to go write this review and to go write my own work. And that's an amazing feeling.
Rating: 4.5/5 stars
As always,
Happy reading, happy writing, and happy blogging!