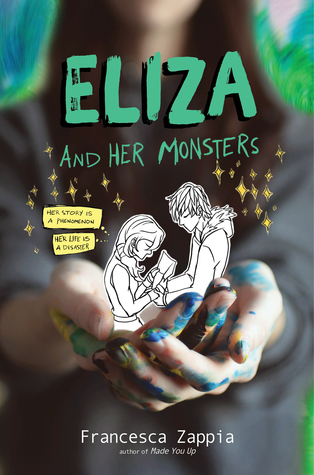 Photo Credit: Goodreads
Hi all, today I'm back with a book review! Eliza and Her Monsters by Francesca Zappia was a book that I was hearing a lot of hype about and I was intrigued by the concept, so I requested it from my library. And I'm so glad I did, because Eliza and Her Monsters ended up being one of my favorite reads so far this summer. Before jumping into the review, here's a look at the summary:
"Her story is a phenomenon. Her life is a disaster.
In the real world, Eliza Mirk is shy, weird, and friendless. Online, she's LadyConstellation, the anonymous creator of the wildly popular webcomic Monstrous Sea. Eliza can't imagine enjoying the real world as much as she loves the online one, and she has no desire to try.
Then Wallace Warland, Monstrous Sea's biggest fanfiction writer, transfers to her school. Wallace thinks Eliza is just another fan, and as he draws her out of her shell, she begins to wonder if a life offline might be worthwhile.
But when Eliza's secret is accidentally shared with the world, everything she's built—her story, her relationship with Wallace, and even her sanity—begins to fall apart."
There were a lot of small aspects within Eliza and Her Monsters that made me really enjoy the book as a whole. The first aspect was the characters. It took me a few chapters to warm up to Eliza, but by the end I was rooting for her so hard. I really liked her character arc, and how she was a creator of a comic and "mother" of an online fandom. I also like Wallace, the love interest, a lot. He was flawed, had his rough moments, but ultimately supported Eliza. I liked the build-up to their relationship, as well as the slow-and-steadiness of their relationship. I feel like those kinds of romantic relationships aren't always present in YA, where relationships tend to happen and accelerate so quickly. Therefore, I found Eliza and Wallace's relationships to be really cute, realistic, and refreshing.
Eliza and Her Monsters also has positive anxiety and mental illness representation, which is a huge plus. I also liked how Eliza and Her Monsters addressed fandoms (and just the internet in general), and its positives ( like online friends!!) and negatives ( such as trolls), as well as the role of technology and fame when it comes to creator-creation dynamics. (THIS BOOK ADDRESSED WRITER'S BLOCK, AND THAT MADE ME SUPER HAPPY!) Eliza spends most of her time on the internet creating Monstrous Sea, but it's ultimately something that's posted on the internet that hurts her. Lastly, I loved the format of the book. Eliza and Her Monsters has pages and drawings from Eliza's comic, Monstrous Sea. They were so intriguing, and they made me want to read the comic itself.
As a said at the beginning of the review, Eliza and Her Monsters got a lot of hype, and I think it definitely deserved it. The story was grasping, and it made me want to go and be creative after I finished reading it. It was a book that I didn't know I needed, which made me love it even more. It also made me think, and consider how creators share their work in the modern age and how that affects them and those around them. I recommend Eliza and Her Monsters if you're looking for an awesome  YA contemporary read, especially if you consider yourself to a creative or artsy person.
Rating 4.5/5 stars
If you're looking for YA contemporary with a super cool online fandom, artsy characters, and just overall awesomeness, then Eliza and Her Monsters is for you!
Happy reading, happy writing, and happy blogging!