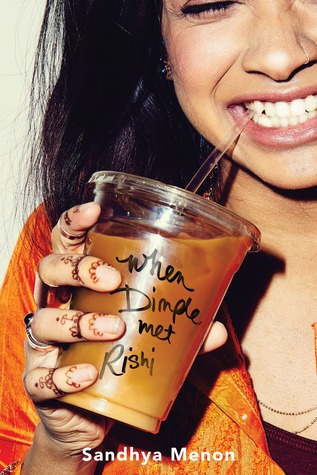 Photo Credit: Goodreads
I've been waiting to get my hands on When Dimple Met Rishi ever since it was released, and I finally picked it up from my local library yesterday. There's been so much hype surrounding When Dimple Met Rishi book, and I'm so happy to say that it 100% lived up to and exceeded my expectations! Before I dive into the review, here's a look at the summary:
"The rom-com that everyone's talking about! Eleanor & Park meets Bollywood in this hilarious and heartfelt novel about two Indian-American teens whose parents conspire to arrange their marriage.
Dimple Shah has it all figured out. With graduation behind her, she's more than ready for a break from her family, from Mamma's inexplicable obsession with her finding the "Ideal Indian Husband." Ugh. Dimple knows they must respect her principles on some level, though. If they truly believed she needed a husband right now, they wouldn't have paid for her to attend a summer program for aspiring web developers…right?
Rishi Patel is a hopeless romantic. So when his parents tell him that his future wife will be attending the same summer program as him—wherein he'll have to woo her—he's totally on board. Because as silly as it sounds to most people in his life, Rishi wants to be arranged, believes in the power of tradition, stability, and being a part of something much bigger than himself.
The Shahs and Patels didn't mean to start turning the wheels on this "suggested arrangement" so early in their children's lives, but when they noticed them both gravitate toward the same summer program, they figured, Why not?
Dimple and Rishi may think they have each other figured out. But when opposites clash, love works hard to prove itself in the most unexpected ways."
First things first, the characters are amazing. Dimple is one of my favorite protagonists and she's so realistic. I love how she knows exactly what she wants and isn't afraid to go after it, but also that she still deals with insecurities just like any other person. Her sarcasm, wit, and smarts added so much light to the story. Now Rishi Patel, how I adore him so. I liked how he vocally loves his culture, and isn't afraid to stand up for what's right. He learns to follow his dreams and do what makes him the happiest, and I love that Dimple pushed him to do that.
The cultural aspect of this book is awesome. It's not often that you read a YA contemporary with such wonderful and intricate South Asian representation. I love how Rishi loves tradition and is proud of his culture and the stories his family and people carry, and how Dimple respects her culture and is still trying to find her place within it. Different people have different connections and relationships with their culture, and I liked how Sandhya Menon portrayed the various aspects of those connections. I googled a lot of the phrases present in When Dimple Met Rishi, and I learned a lot more about Indian culture that I didn't know before reading this book.  Though I did get the Priyanka Chopra reference (Quantico anyone?), and I thought that was super cool.
But besides just being a heart-melting YA romance, When Dimple Met Rishi addresses some extremely relevant topics. It was so freaking amazing to see Dimple, a woman of color, so passionate about STEM, but she faced a lot of misogyny. It was inspiring to watch her confront it, and not let it deter her. I felt that so many western stereotypes addressed as well, particularly about arranged marriages. I love that Sandhya Menon featured a suggested arranged marriage with so much depth and wit and humor.
When Dimple Met Rishi is definitely the best YA rom-com that I've read this year! I 100% recommend reading this book outside while sipping on an iced chai, soaking up the sun and the adorableness.
*Sex is one small aspect of  Dimple and Rishi's relationship once it develops; however, it does briefly come up so I did want to give a heads-up in case that scene would be a concern to anyone.
Rating: ★★★★★ stars for melting my heart
If you're searching for the perfect summer YA romance, look no further!
Happy reading, happy writing, and happy blogging!