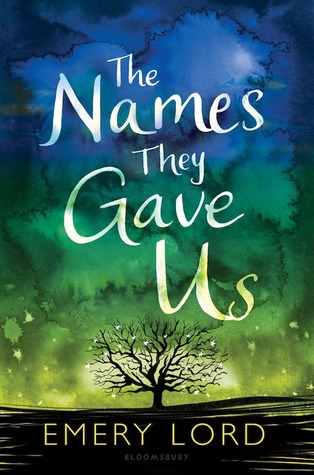 Photo Credit: Goodreads
I've been recently reading books that hit me in the feels, and I'm not sure why I keep doing this to myself. Before I dive into the review of The Names They Gave Us, here's a look at the summary:
"When it all falls apart, who can you believe in?
Everything is going right for Lucy Hansson, until her mom's cancer reappears. Just like that, Lucy breaks with all the constants in her life: her do-good boyfriend, her steady faith, even her longtime summer church camp job.
Instead, Lucy lands at a camp for kids who have been through tough times. As a counselor, Lucy is in over her head and longs to be with her parents across the lake. But that's before she gets to know her coworkers, who are as loving and unafraid as she so desperately wants to be.
It's not just new friends that Lucy discovers at camp—more than one old secret is revealed along the way. In fact, maybe there's much more to her family and her faith than Lucy ever realized."
Ok, where to start? Firstly, the characters are what makes The Names They Gave Us so amazing. Lucy on her own didn't necessarily stand out to me at first, but I grew to really like her as the story progressed. She wasn't necessarily relatable but she was very likable, and I admired her bravery, resilience, and lust for life. I ADORED the camp counselors, and I loved how Lucy fit in within the group. The friendships in The Names They Gave Us made me feel warm and fuzzy. Not only does Lucy grow throughout the novel but so do all of her relationships (familial, platonic, and romantic!), and I really enjoyed reading that.
The importance of family, friendship, and faith are core parts of The Names They Gave Us, and they all delivered. I identified with parts of the relationship between Lucy and her faith, and I think the aspect of faith was incredibly well done. Another aspect of  The Names They Gave Us that I loved was the diversity. The novel features many wonderfully diverse characters. In addition, Emery Lord dealt with a multitude of heavy topics including anxiety, grief, and teen pregnancy, in the most realistic and respectful way. And lastly, I need a freaking sequel because the cliffhanger was brutal and I love the characters.
And lastly, I need a freaking sequel because the cliffhanger was brutal and I love the characters. The ending of The Names They Gave Us was very abrupt, and it left me without a sense of closure. At this point Emery Lord has become an auto-read/buy author for me, and The Names They Gave Us didn't disappoint. The Names They Gave Us is a heavy book that addresses heavy topics, but Lucy's journey left me feeling light and uplifted after I finished reading it. Along with the summer camp setting, The Names They Gave Us is perfect for this time of the year.
Rating: 4.5/5 stars
Is this uplifting, perfect-for-the summer YA contemporary on your TBR list?
Happy reading, happy, writing, and happy blogging!