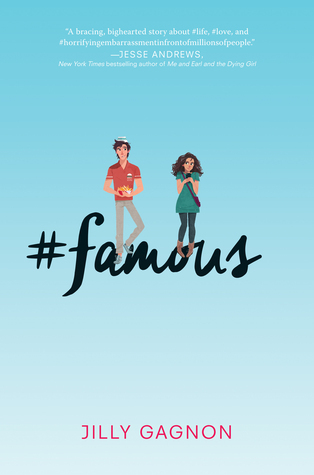 Photo Credit: Goodreads
Happy Memorial Day! I picked up part of my library haul and the first book that I decided to read from it was #famous. Before I start the review, here's a look at the summary:
"In this modern-day love story, Girl likes Boy, Girl takes photo of Boy and posts it online, Boy becomes accidentally insta-famous. And what starts out as an innocent joke spirals into a whirlwind adventure that could change both their lives—and their hearts—forever. But are fame and love worth the price?"
Told in alternating points of view, #famous captures the out-of-control thrill ride of falling for someone in front of everyone."
This novel is based on the Twitter sensation that swept across the internet three years ago, Alex from Target. #famous is told through the lenses of both Kyle, who becomes insta-famous after Rachel 'Flits' a picture of him to her best friend.
I adored Rachel and Kyle. Rachel's humor, wittiness, and overall personality made the novel a very fun read. She struggles with her insecurities and taking risks, while deepening her self-understanding. She's a highly relatable character, and -bonus points!- she's a writer. I also liked Kyle, but I don't think his character was as well developed as Rachel's. However, both characters complemented each other and I was a fan of their romance. I loved seeing how differently they experienced the same journey, and their banter and chemistry were both amazing.
The pacing of #famous was very well done. The chapters were short and sweet, and always made you want to jump to the next perspective. Another element that made #famous awesome was the inclusion of social media and how present it is in today's society. I've rarely seen social media portrayed in YA books to the extent that it is used in people's everyday lives, especially teens. It was refreshing to read a novel about the impacts of social media and what it means to become insta-famous.
#famous made me reflect on the implications of fame and what it does to the people who it's thrust upon. It made me think about the contrast in how people view themselves and how they present themselves to the world, one aspect that made Rachel very relatable. It also made me think about how quickly lives can change by just a simple situation that spirals out of control. I think next time I see a picture or video go viral on Twitter, I'll stop and think about the people involved and the people closest to it. Because as #famous reminds us, despite the fame-inducing situation, they are just people.
The only aspect of #famous that I didn't enjoy as much was how present the tropes were. Kyle is your typical nice guy. Jessie, and the Wolfettes, are your typical mean girl clique. Monique is your typical standard black girl sidekick. Some of the characters had complexities, mostly Kyle because he was one of the protagonists, but I felt that the tropes overrode any of those complexities for the other characters. I think Rachel could've easily fallen into this category as well, but her character was well developed and she was interesting to read about and watch grow throughout the story. The storyline is predictable but very entertaining, so that wasn't much of a negative but still something worth noting.
My final rating is 3.5/5 stars. If you're looking for a cute, quick, and light-hearted read that's extremely relevant to today's society I'd definitely recommend #famous. I'd especially recommend #famous if you're a fan of Stephanie Perkins or Rainbow Rowell.
Is this wonderful feel-good book on your TBR list, because if not, then it should be!
Comment below if you've read this book or are looking forward to doing so!