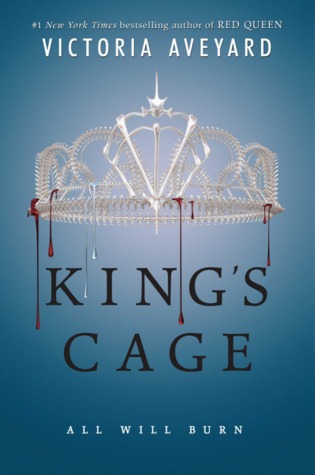 Photo Credit: Goodreads
I had been meaning to pick up Victoria Aveyard's latest installment in the Red Queen Series, King's Cage for quite some time now. After falling in love with the Red Queen and not enjoying Glass Sword as much, I was excited to see how I would feel about the third book.
Before I go into further detail about my thoughts on King's Cage, here's a look at the summary on Goodreads:
"When the Lightning Girl's spark is gone, who will light the way for the rebellion?
Mare Barrow is a prisoner, powerless without her lightning, tormented by her lethal mistakes. She lives at the mercy of a boy she once loved, a boy made of lies and betrayal. Now a king, Maven Calore continues weaving his dead mother's web in an attempt to maintain control over his country—and his prisoner.
As Mare bears the weight of Silent Stone in the palace, her once-ragtag band of newbloods and Reds continue organizing, training, and expanding. They prepare for war, no longer able to linger in the shadows. And Cal, the exiled prince with his own claim on Mare's heart, will stop at nothing to bring her back.
When blood turns on blood, and ability on ability, there may be no one left to put out the fire—leaving Norta as Mare knows it to burn all the way down."
There are three main aspects of the King's Cage that I enjoyed, the first being Mare's character development. In King's Cage she realizes that her actions in Glass Sword affected those around her, and she's more aware of herself and her actions overall. I didn't think she was very relatable in book 2, but in book 3 she's a character that you WANT to support. Despite going through so much trauma, she continues to grow. And despite witnessing, and being a part of, a vast amount of destruction and death she continues to love and hope. She isn't weakened by her fear but strengthened by it.
The second aspect is Maven. We truly get to see him as a villain in King's Cage, and learn more about who he is and why he does what he does. The backstory that we learn about Maven makes the twisted and complicated (non-romantic) relationship between Maven and Mare work. Some readers raved about the relationship but while I did find it compelling, I didn't find it fascinating. I couldn't get behind it, maybe because I so strongly ship Cal and Mare. Maven wasn't a strong presence in Glass Sword, but Victoria Aveyard makes up for it in King's Cage.
The last aspect of King's Cage that I found very interesting was the worldbuilding and the history of the Reds. We learn more about the history of their oppression, and how different kings address the Reds. It added another layer to Maven's actions and increased the complexity. The politics mixed with the character development, along with the dash of romance, brought the whole book together, and I flew through it in two days.
The ending of the novel was one that I saw coming from a hundred miles away, but that didn't lessen the pain. I don't want to spoil the ending, but if you're Team Cal you're bound to be at least a bit disappointed by how everything works out. However, the ending does sow the seeds, and provides the setup, for an enthralling final fourth book. (I can't believe there's only one book left *cries*)
My favorite part of the entire book is the line, "Caz, Brecker, with us!" and the fact that they're two guards named Rash and Tahir. The nod to the Six of Crows duology made me tremendously happy. (And if you happen to be looking for a new fantasy read, the Six of Crows duology is high on my list.)
In conclusion, I give this book a 4/5 star rating. The overall complexity, as well as the Six of Crows shoutout, made King's Cage an enjoyable read. If you weren't the biggest fan of Glass Sword, I urge you to give King's Cage a try because I think it'll thoroughly surpass your expectations.
Rating: ★★★★☆ 
Is the latest installment of the Red Queen Series on your TBR list?
Comment below if you've read this book or are looking forward to doing so!